What

You Need to Know Before You Buy Cedar Trees in Vancouver

Robust, beautiful, and virtually trouble free, cedar trees make spending time in your backyard a true joy. Before you put in a tree order, you will absolutely want to consider adding cedars to the top of that list. If you are looking to buy cedar trees in Vancouver, we have you covered.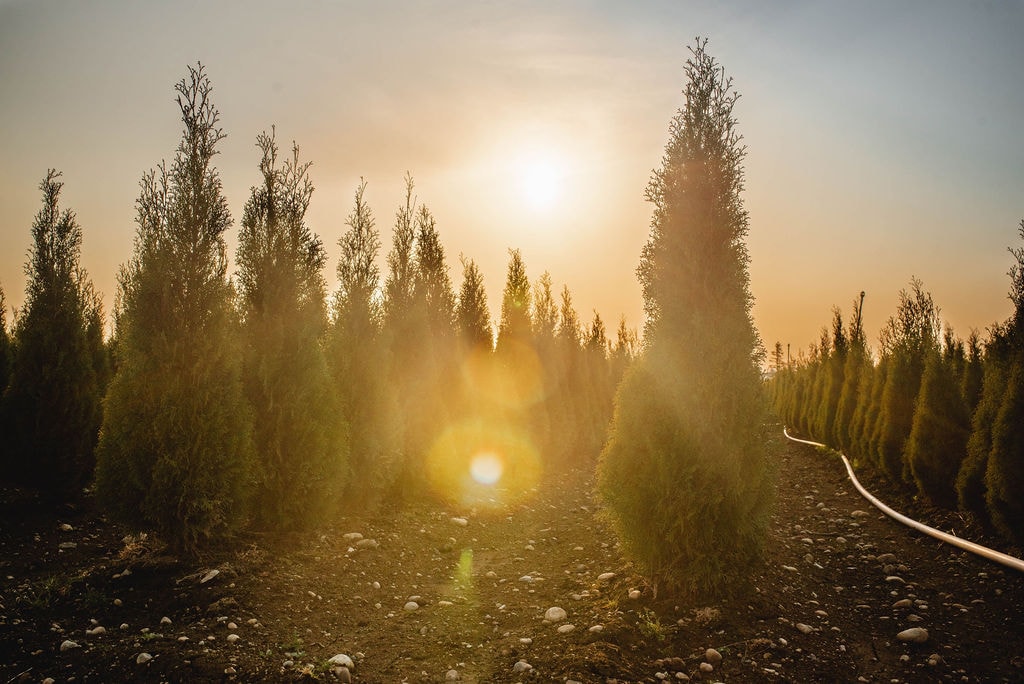 Cedar

Tree Facts

Cedar trees come in a host of varieties. Because of their size, these large coniferous evergreen trees are perfect for creating windbreaks, forming borders, and buffering noises. What's more, the pleasant-smelling oils they produce are delightful to us but toxic to insects and fungus. Cedars also thrive in both moist and dry environments, making them great options for the diverse Vancouver climate.
Cedar

Tree Planting

When planting cedars, choose a location that provides 6-8 hours of sunlight a day. Dig a hole that is approximately 80 centimetres wide and 40 centimetres deep. Also, make sure your trees are at least 1.5 metres apart.
Place your trees in the holes and pack the soil down around the roots. The best time to plant cedars is between May and October.
Cedar Tree Care
One of the reasons why cedars are popular is because they require very little maintenance. Here are some handy upkeep tips to ensure hardy and healthy trees.
Water young trees regularly, allowing them to completely dry out before subsequent watering.
If you have healthy soil, you won't have to add fertilizer.
For nutrient-lacking soil, add fertilizer three times a year in May, June, and July.
Prune your trees from early spring to late summer for optimal growth.
With a little TLC, your cedars will live a long, long time.
Cedar Tree Problems
Cedar tree issues are few and far between, but they do happen. There are several insects that can wreak havoc on your trees, including the cypress tip moth, root weevil, juniper scale, and mites.
If you have noticed an abnormal amount of brown or yellow foliage, loss of plant sap, white cocoons, or black mold, your trees may have an infestation problem. You may need to use insecticide for extreme situations.
Rodents can also cause harm by chewing away on the bark. Left untreated, excess damage can result in tree loss.
Cedar Tree Suppliers
You want your trees to provide enjoyment, beauty, and big benefits for generations to come. So, make sure you partner with the right cedar tree provider.
Are you in the market to buy cedars in Vancouver? At Fraser Valley Cedars, we sell a huge selection of the freshest and highest quality varieties in the Lower Mainland.
For cedar trees that are second to none in Vancouver, contact us today!
Enjoy

easy-to-care-for tree options

Not everyone has the time (or desire) to put aside for landscaping duties. If you would rather be doing something else on your days off, cedars are the easy-to-care-for tree options you have been searching for. Cedars rarely lose their leaves, meaning less raking for you. And if you are not a fan of pruning, you are in luck. Cedars only need trimming once a year, saving you time and energy. 

With so many benefits that cedars offer, it is no wonder why these trees are some of the most sought-after options for Metro Vancouver property owners. Experience for yourself what this fantastic foliage can bring to your Lower Mainland landscape. 

When you want to buy cedar trees in Coquitlam, drop by Fraser Valley Cedars. Our cedars and our service are truly a cut above the rest. 

We at Fraser Valley Cedars would be happy to answer any questions you may have regarding our cedar trees. If you would like a quote over the phone or in person (at no cost), please get in touch with us today.
Project

Galleries

With so many years of experience in the business
All our cedar trees grows and supplies are premium Grade 'A' certified.
Thank you for the beautiful cedar tree's. Your service was excellent. I know my neighbors and I will get many years of enjoyment out of them.
D. Bentley, Homeowner
West Vancouver
When choosing landscape products for my customers, I only choose the best quality products. Since discovering Fraser valley Cedars Ltd a few years ago, I would choose no other supplier. Fraser Valley Cedars provides a great product with excellent customer service. They are truly 10 out of 10.
Kerry LeMaitre
Owner – Silver Lining Landscaping Ltd
Great company… they say what they are going to do and do it. They have provided us with a great product at a fair price. Will continue to buy product from them.
We ordered 60 Excelsa cedars to plant a hedge this fall and were very pleased with the quality of the cedars as well as the delivery service to the Sunshine Coast. We certainly will recommend your company to others.
I worked for Brandon Loewen for a time and can say with certainty, professional service from a good man who really knows his stuff! Was sad to leave!
Robert James Mcdermott
Past Employee
Fraser

Valley Cedars

We at Fraser Valley Cedars would be happy to answer any questions you may have regarding our cedar trees.
If you would like a quote over the phone or in person (at no cost) please get in touch with us today. Call 604.217.2886