BC

NATURE'S SUPERIOR CEDAR TREES

Farm-fresh trees grown in the heart of the coveted Fraser Valley region. Our prized location and international reputation ensures you the healthiest quality of lush cedar hedging.

As the Fraser River flooded over the centuries, BC's Fraser Valley plains created the optimum geological PH balance and soil make-up, providing the perfect environment for cedar tree growth.  Its clay mixture with nutrient-rich silt deposits was laid down and embedded into the sedimentary layers, gaining the area recognition as the green belt of Canada, with international requests for these high-quality, prized specimens.

The Lower Mainland's Fraser Valleys area has a naturally occurring wind tunnel and an abundance of mountainous terrains. Couple that with a semi-rain-forest climate gives us the best cedar growing conditions in the country.  Our giant West Coast trees create an air filtering and oxygenation process which helps clear the valley air with oxygen-producing photosynthesis. Gas emissions are absorbed as a natural fuel for detoxification.  Mild winters rich with moisture keeps our cedar trees refreshingly healthy and robust. All-weather hardiness and year-round plant-ability give the best flexibility and compatibility for various land usages.

No wonder this is one of the best places to live on earth!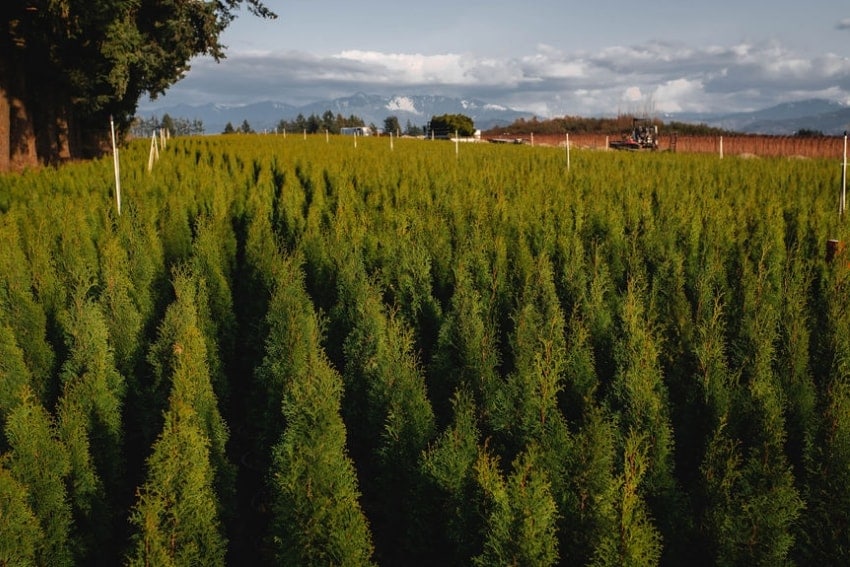 OUR FIELD CARE & MAINTENANCE
Healthy cedar maintenance begins at home. We believe in quality care, from propper field rotation (letting the land rest and regain nutrients,) to 'wet coast' watering and everything in between.
Using appropriate irrigation, drainage, pruning, fertilizing, as well as weed and pest control measures, while at the same time grooming for overall physical appearance, is our quality trademark.
  NOURISHED
 NATURE