Buy

Cedar Trees in Coquitlam: An Investment That Grows

Looking for a tree option that offers up some big benefits to your Coquitlam property? When it comes to beauty, versatility, and low maintenance, cedars just can't be beat. If you want to buy cedar trees in Coquitlam, Fraser Valley Cedars has you covered. Read on to learn why cedar trees are excellent choices for anyone wanting to add aesthetically pleasing scenery and functionality to your landscape.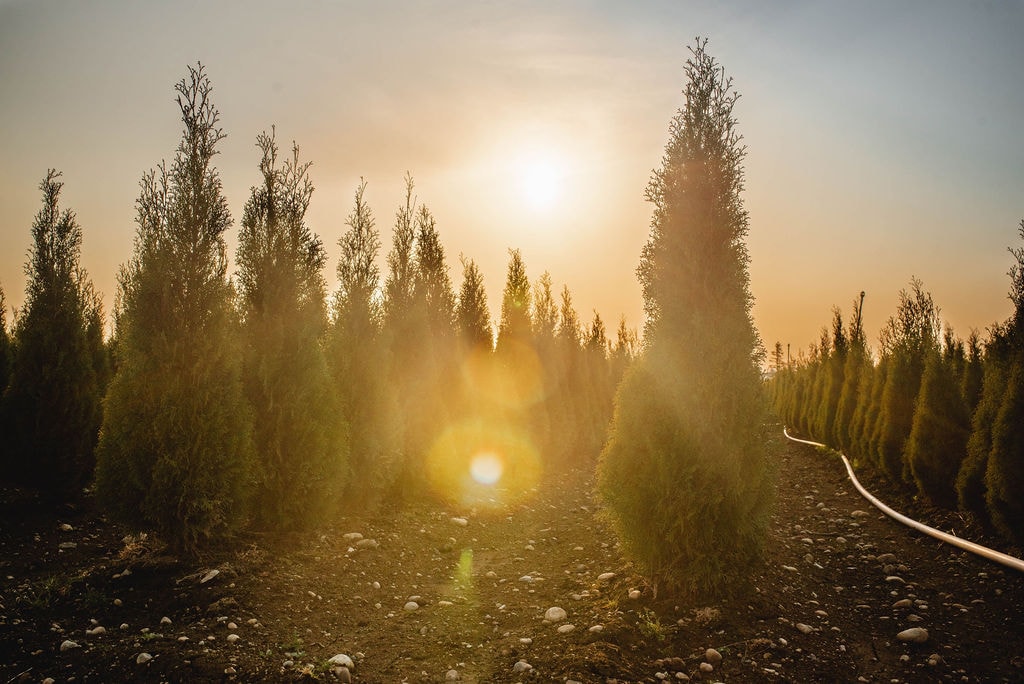 Save

on energy bills

Coquitlam gets its fair share of energy sapping weather. Hot, dry summers and cold, wet winters can cause spiking energy bills. If you are searching for a way to save on heating and cooling costs, our cedars can help. These lush evergreens will not only block chilly winds and snow, but also provide needed shade, keeping you and your property cool in the summer heat.
Provide

privacy for any property

Eye-catching and sound-absorbing cedar trees are the perfect solutions to up the privacy factor. With their thick dark leaves, cedars make effective property borders to provide the privacy you and your family crave. This robust foliage also blocks unwanted views as well as adds greater safety for your property.
Protect your landscape
Cedar trees offer a wide range of advantages to your Coquitlam landscape. Efficient windbreakers, cedars go a long way to protecting other plants and trees on your property from the wind and the snow. Plus, the trees at Fraser Valley Cedars will help keep topsoil in place as well as prevent flooding by soaking up mass amounts of water—perfect for all that Lower Mainland wet weather.
Enjoy

easy-to-care-for tree options

Not everyone has the time (or desire) to put aside for landscaping duties. If you would rather be doing something else on your days off, cedars are the easy-to-care-for tree options you have been searching for. Cedars rarely lose their leaves, meaning less raking for you. And if you are not a fan of pruning, you are in luck. Cedars only need trimming once a year, saving you time and energy. 

With so many benefits that cedars offer, it is no wonder why these trees are some of the most sought-after options for Metro Vancouver property owners. Experience for yourself what this fantastic foliage can bring to your Lower Mainland landscape. 

When you want to buy cedar trees in Coquitlam, drop by Fraser Valley Cedars. Our cedars and our service are truly a cut above the rest. 

We at Fraser Valley Cedars would be happy to answer any questions you may have regarding our cedar trees. If you would like a quote over the phone or in person (at no cost), please get in touch with us today.
Project

Galleries

With so many years of experience in the business
All our cedar trees grows and supplies are premium Grade 'A' certified.
Thank you for the beautiful cedar tree's. Your service was excellent. I know my neighbors and I will get many years of enjoyment out of them.
D. Bentley, Homeowner
West Vancouver
When choosing landscape products for my customers, I only choose the best quality products. Since discovering Fraser valley Cedars Ltd a few years ago, I would choose no other supplier. Fraser Valley Cedars provides a great product with excellent customer service. They are truly 10 out of 10.
Kerry LeMaitre
Owner – Silver Lining Landscaping Ltd
Great company… they say what they are going to do and do it. They have provided us with a great product at a fair price. Will continue to buy product from them.
We ordered 60 Excelsa cedars to plant a hedge this fall and were very pleased with the quality of the cedars as well as the delivery service to the Sunshine Coast. We certainly will recommend your company to others.
I worked for Brandon Loewen for a time and can say with certainty, professional service from a good man who really knows his stuff! Was sad to leave!
Robert James Mcdermott
Past Employee
Fraser

Valley Cedars

We at Fraser Valley Cedars would be happy to answer any questions you may have regarding our cedar trees.
If you would like a quote over the phone or in person (at no cost) please get in touch with us today. Call 604.217.2886